Singapore-based "Dancing Dragon" announces the launch of its new website, a platform devoted entirely to island vacations. In a single space, users can browse the islands of South-East Asia, check real time availability at select properties and make secure, online reservations.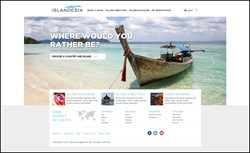 Islandesia.com Homepage
Islandesia aims to extract the very best island experiences from the millions on offer.
Singapore (PRWEB UK) 2 October 2013
Founded by a team of experienced travelers, this new site aims to make island travel easy. Specializing uniquely in isolated atolls, it brings together some of the top island destinations, making it easy to compare the atmosphere and accommodation options of each.
Islandesia offers high-end hotels in some of the most beautiful and lesser known islands of the region, focusing on individuality and style. All the properties featured are distinguished by their unique design and commitment to providing a more "personal" guest experience. The company avoids large resorts and chains, with few hotels featured having more than 100 rooms.
The platform is not however only a booking tool. One of its distinguishing features is the Island Directory, a browse facility enabling prospective travelers to explore potential destinations to find the right fit. Using an interactive map, users can compare each island and country, before browsing the hotels each has to offer. General tips about climate and transportation are supplemented with interesting, factual articles about wildlife, food, history and culture in the Island Magazine pages.
In June 2013, the World Tourism Organization Network (UNWTO) reported that tourism to South East Asia increased by 12% in the first half of the year, making it the fastest growing destination in the world. This increase, as noted by the UNWTO Secretary General Taleb Rifai, makes tourism "one of the key pillars in socio-economic development" of the region.
Recognising that island ecosystems are extremely fragile and that an increase in tourism often represents a very real environmental threat, the company implements a Green Booking policy. It donates $1 from every booking made to the WWF's "My Coral Triangle" program. Helping preserve one of the richest sites of marine biodiversity on the planet, this program also hopes to protect the millions of livelihoods that depend on it.
Currently focused on South East Asia, Dancing Dragon will be rolling out a series of new destinations in the course of 2013/14. Expanding into the Caribbean and Polynesia, the company aims for Islandesia to become the leader in luxury island accommodation.
Islandesia is a product of Dancing Dragon Pte. Ltd, a company created in Singapore at the start of 2013. Despite its relatively new online presence, the team has a far longer background in online innovation and is committed to using this experience to provide high quality, authentic island experiences.
Original source http://uk.prweb.com/releases/2013/10/prweb11174772.htm